How to install vinyl flooring?
Are you rebuilding or renovating your home? Have you chosen one of our beautiful vinyl floors because of its warm colours, unique patterns and original motifs? Well done! Then you can easily install it yourself. How do you go about it? We will explain step by step how to install a vinyl floor in your bedroom, living room or kitchen. Installing a Beauflor® vinyl floor is very easy.
You should always start by preparing the subfloor or surface of the room. If the existing floor is cork, linoleum, carpet or vinyl, it's essential that you remove it. If the floor is tiled, concrete or quarry tiled, it needs to be smoothed out with a levelling compound. If the floor is made from timber, engineered wood or particle board, you must check that all the planks are secured and of course that the top surface is even.
What do you need to install a vinyl floor?
The installation of a cushioned vinyl floor requires a limited number of tools and materials. What is needed?
A sharp knife with a straight blade or a hook blade
Soft brush
Convex steel ruler for straight cutting
Masking tape
Moisture meter
Vinyl flooring adhesive
Cold welding liquid
Your Beauflor® vinyl roll
The installation process
Leave your roll of vinyl in the room where it is to be fitted for at least 24 hours before fitting, so it can adjust to the room temperature.
When you encounter an outside corner, cut away from the corner at 45° then trim away the excess vinyl, leaving 50mm - 100mm turned up at the skirting boards.
When you encounter an inside corner, push the vinyl firmly down into the joint, fold back the edge and cut off the surplus.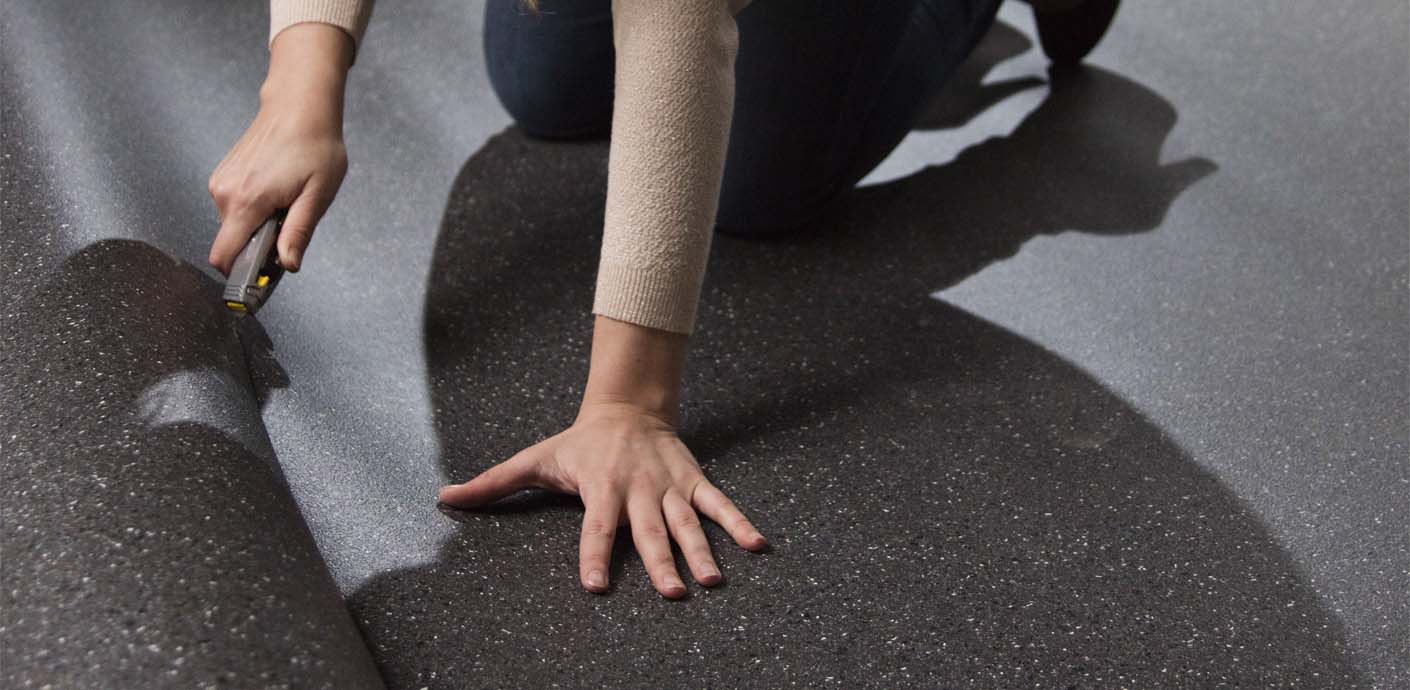 How do you join two pieces of vinyl?
If you are laying vinyl over a large area you might need to join two pieces together.
Let one piece of vinyl overlap the other by 35 to 50 mm or until the pattern matches, then cut through both pieces of vinyl with your steel ruler and blade.
Once they are lined up perfectly, fold back the edges one at a time and use adhesive to stick them to the floor. Press down firmly to secure in place and leave until it is touch dry.
Apply masking tape over the seam and cut the tape at the seam. Now, apply the welding liquid in the seam and remove the masking tape.
Protecting your new vinyl floor
Please take the following precautions to protect your new vinyl floor. Furniture should not be placed on the floor until the adhesive has had adequate time to dry (at least 24 hours, ideally 72 hours).
Always move heavy furniture and appliances with care to avoid damaging or tearing the floor:
Lay strips of plywood or hardboard panels on the floor.
Roll, "walk" or slide heavy items onto the strips.
Make sure furniture legs have non-staining floor protectors.
Replace small, narrow metal or dome-shaped glides with smooth, flat glides that are in flat contact with the floor. Glides should be equipped with self-adhesive felt pads to avoid scratching the surface of the floor.
The pads should be checked periodically for grit and wear and replaced when necessary.
Always place mats at outside entrances to prevent dirt, grit and soil from being tracked onto your floor. Don't put rubber-backed mats on your floor.
Important: Please do not use:
Rubber-backed mats or other rubber objects as they may permanently stain your floor.
Heat-producing appliances (refrigerators, hot air emitting devices...) or cigarettes and matches as they can scorch, burn or discolour your floor.
Spiked heels on floor coverings, they can leave permanent damage.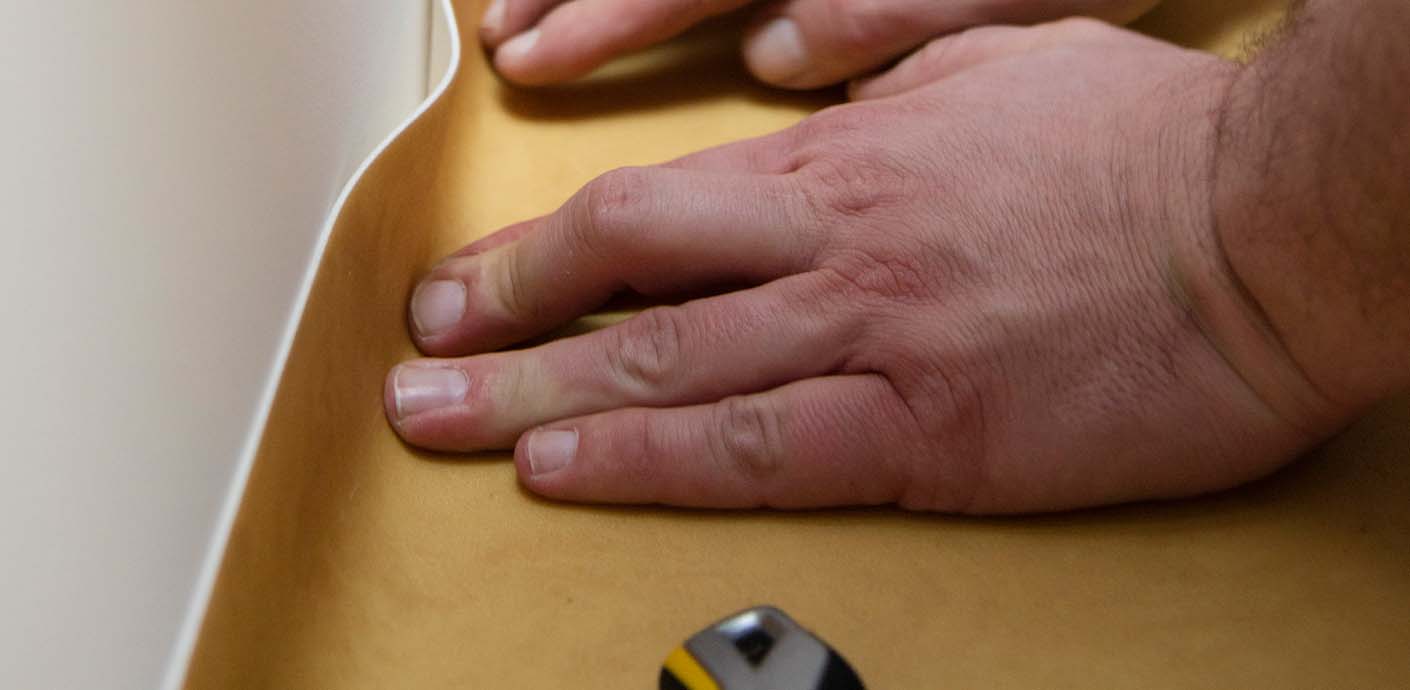 Within the first 72 hours after installation
Do not let any water lie on the floor for the first 72 hours after installation, or until such time as all the seams are welded. Hereafter the adhesive is sufficiently resistant to water so that the bonding strength will not be affected.
During the service life of the floor, the temperature should never fall below 13°C. The performance of the flooring material and adhesives can be adversely affected below this minimum temperature.
Vinyl flooring can be installed by anyone!
You can install cushion vinyl almost anywhere: in the living room, bedroom or even in bathrooms, kitchens and basements. However, some adhesives used for installation are water-soluble and should not be exposed to water for an extended period of time.
Vinyl is not only a durable and practical product, but it is also easy to install. Whether it's a vinyl floor for the kitchen, bathroom, hallway, attic or living room, it's very easy to do, just follow these basic guidelines. Please feel free to check our installation video in the support section.
There is a vinyl floor available for every room in your home, whether it is your kitchen, bathroom, bedroom or living room. Beauflor® vinyl floors come in the most amazing range of colours and patterns. Any kind of interior can be perfectly finished with our vinyl flooring. Our rolls are available up to 5 metres wide, making them suitable for practically any type of room. You will certainly find what you are looking for in our wide range. Contact us if you require more information.
Beauflor® vinyl floors are available from a wide range of stockists across UK, Belgium, Germany & France.