Unique prints
1. Are you looking to renovate or decorate your shop, restaurant or public space?
2. Unleash your creativity with the digital printed vinyl floors of Beauflor.
3. We can produce your designs as from 88 m² onwards.
Thanks to the flexibility of digital printing, we can make tailor-made designs that allow you to offer your customers something truly special, original and different. Curious?
Conventional printing techniques can only make so many different floor designs. However, our highly advanced digital printing process helps create endless possibilities in this area, resulting in true-to-nature floors with no visible repeat. All made for you.
Thanks to our high definition digital printing technology we at Beauflor can offer you the possibility to (co)create whichever design you have in mind.
If you dream it, we can make it.

Equally important, we do not only think alongside the design process but we also help you with the layout of the floor by translating your bespoke design in a clear installation plan.
From the first step to the last, we are there for you!
From changing the color to creating a truly bespoke floor! There are 2 design options: Studio or Crea.
Studio
• Select an existing design from any of our standard collections and we can also adapt the color.
• Select an image from our digital image bank and we can also adapt the color.

Please note that the minimum order quantity starts from a single roll or 88m2.
Use an existing design
We have a huge selection of designs which can be adapted to suit your requirements so that you achieve the perfect look for your project - be it residential or commercial.
For example: by changing the colors, adding your company logo, etc
• Deliver us your image or design and we'll convert it to an image that is printable on our vinyl rolls.
• Send us your creative brief (moodboards, materials, or any other source of inspiration) and we'll come up with some great proposals to meet your needs. We co-create and translate your ideas into a stunning design that is printable on our vinyl rolls.
Crea
Deliver us your image
Great if you already have a very specific image or design in mind! We can convert it easily into an image that is printable on our vinyl rolls.
Send us your creative brief and co-create with our design team
Work directly with our design team and create a concept from scratch based on your briefing in which you specify the target audience, the room size, style, etc. and we will come up with creative concepts for you to consider.
Labo Sample
They are printed on an unbacked piece of vinyl, with a top coat for color approval. We can provide these samples within 10 days.
Finished Product Sample
For specific projects, a larger piece will be needed. For this, we can do a short test production of sections up to 100 x 400 cm, depending on the design. Check lead times with your sales reps.

Custom Design Floor Plan Service
If you choose to provide us with your own design or image, we adapt your floor plans / design to multi-room layouts, flowing seamlessly throughout your project. If the design exceeds the width of the roll and requires multiple band installation, then Beauflor will provide this service.

Once we receive your design/image and the floor plan of the space, the Beauflor design team will create an installation plan with the arrangement of the rolls and
calculate the number of square meters required. A final proposal of the roll distribution plan will be presented to you for your approval. Any changes after approval, will be at the customer's expense. Depending on the shape of the rooms and walls in the building, specific unusable "blank spaces" will appear in the printed rolls. Please be aware that these blank spaces will be included in the number of square meters on your quotation. We prepare your floor plan to be as efficient as possible for your project. The charged number of square meters will therefore be higher than the actual requested number of square meters. The design team will keep these blank spaces to a minimum.
Installation
Installation should always be with a double cut. Standard we foresee an overlap of 4 cm on both sides of the roll. If you prefer a different overlap, please specify this before the project starts. The roll distribution plan will be the installation guide. Beauflor will also provide you with an installation manual. It is essential to give both documents
to the installer. Please give clear instructions about the project. Beauflor is not responsible for extra costs if the installation is not installed according to the installation guide and manual.

At the start and the end of each roll, we will print the project name as well as the roll number corresponding to the roll distribution plan.

Requirements
Whether it is an image you provide or we create for you, our design team will then adapt the image in order to fit onto a 4m roll. Depending on the required print size the image will need to be put in repeat, either in width, but certainly in the length of the roll, thus creating a seamless design. It is essential that our designers understand your exact repeat requirements when receiving your image.
Have also a look at our Reference page where we present some of our digital projects or download our brochure: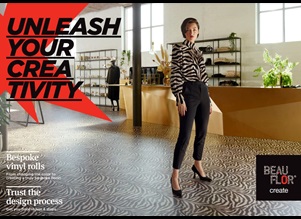 Don't hesitate to contact us to discuss your project.